Redacted Remilio Babies is a collection of 10,000 neochibi pfpNFT's evolving the proven Milady Maker paradigm with the introduction of young J.I.T. energy, schizophrenic reactionary aesthetics, and digital sales terrorism. We are #REMILIONAIREs.
Redacted Remilio Babies is Remilia Collective's first pfpNFT project since Milady Maker, an effective second generation evolving the paradigm we first defined with Milady. We've been very secretive about the development of this project, but now I'll reveal all the details in a design document like Milady's¹.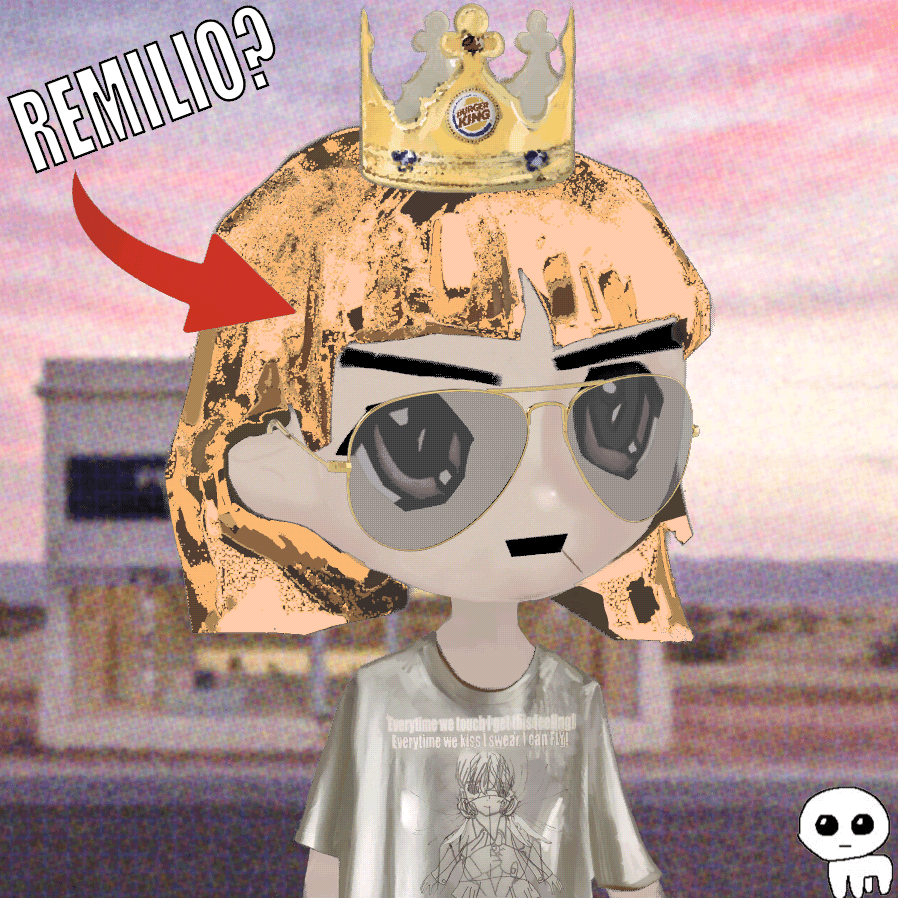 Milady Provenance
The provenance of Milady as an organic profile picture and icon of neochibi design predating its formulation into an NFT has often been missed by those firmly in the NFT space that we've been cutting through, unclear to the many who arrived after Milady's mint out and how the core community that filled it in the 6 month period from its launch to mint out arrived from our audience as net artists outside forays into crypto².
In short, the original, original 'Milady' was various neochibi characters Milady Sonora Sprite was actually drawing for themself for their own profile pictures. One version with a trucker cap lent itself to simple edits and it became a meme in our sphere to put together a personal edit of the character for our own use, making the Milady edit an inescapable timeline presence imbued with our community's characteristic posting style, much like it would later as an NFT.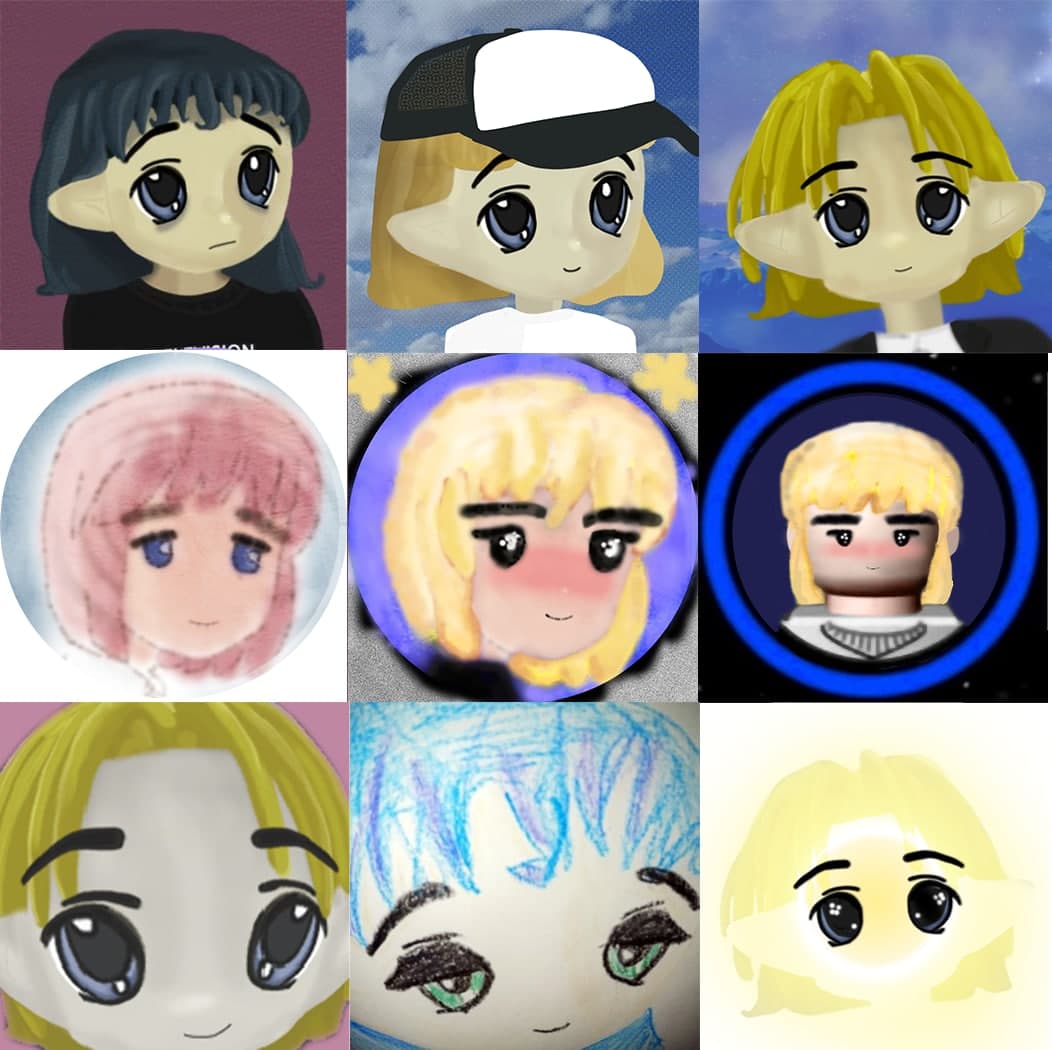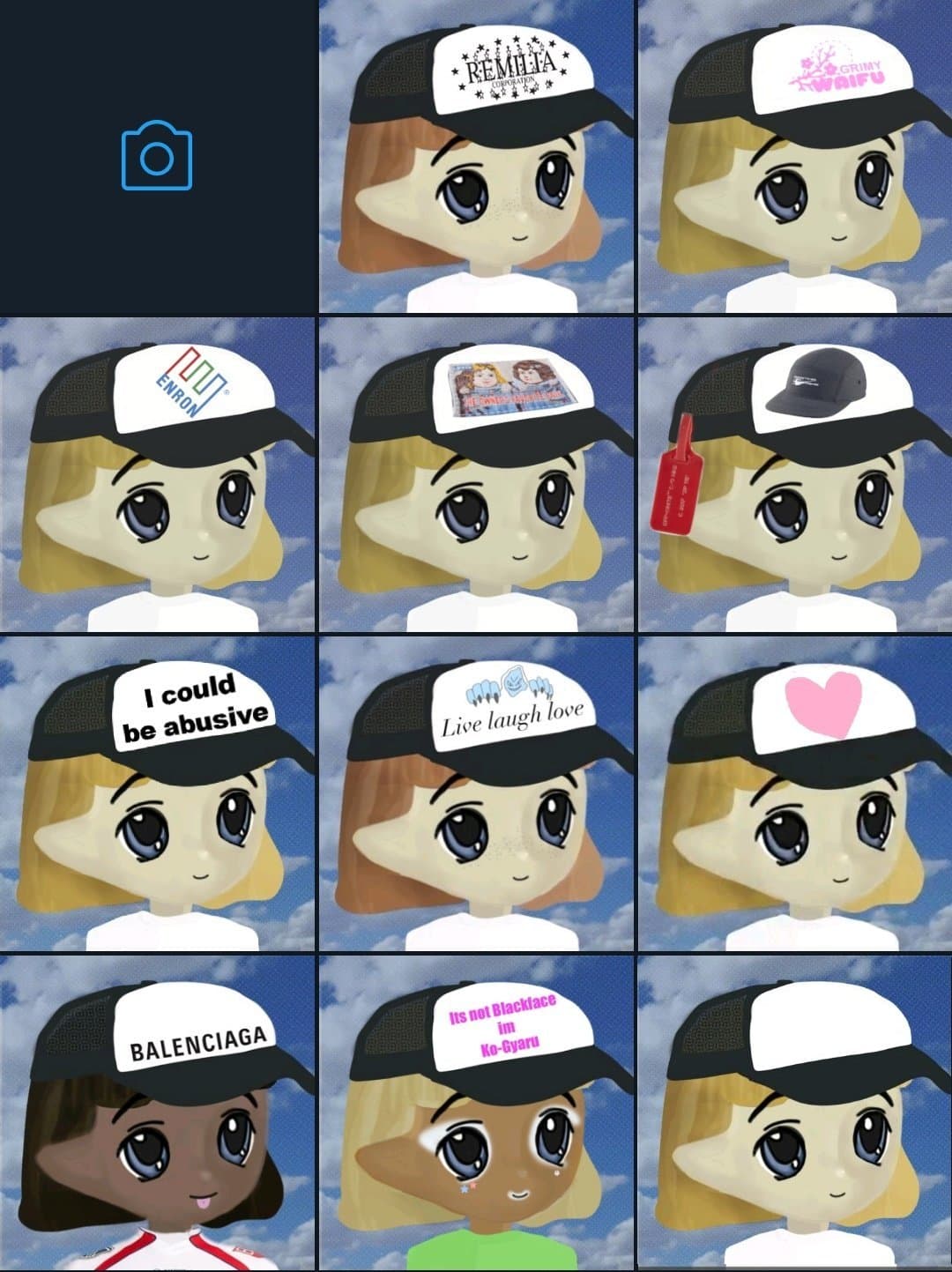 An Adobe Flash application wasdeveloped by a fellow Remilia Collective artist Fodkorp, published as part of his 3Dtestosterone.net concept site, which accelerated the process of making Milady edits, the original "Milady Maker" and source of the name. Edits became more elaborate, and as we were already engaged in the NFT space, it was a natural direction to then consider these in the framework of pfpNFT (and how that model could be revolutionized).
Fodkorp also made a series of his own drawn Milady edits, arguably the first "Milady derivative". It is one of these Fodkorp Miladies that I'd used personally while running Milady Maker³.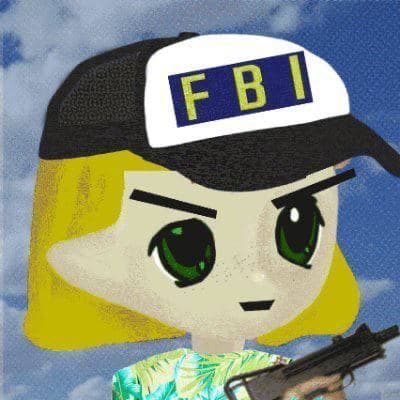 Another Remilia Collective artist, Uleńka Pachinko, took on the mantle of illustrating the art to extend FodKorp's version into a complete collection in collaboration with myself and a couple others from Remilia⁴.
Milady in her aesthetics and message is secluded, a hikki closed in her room, innocent, full of pure love, trying on Japanese outfits she found on Douyin or among Twitter friends. Remilio her little brother goes with thoughts outside of the self, the room, the house, trying to embrace the forces of the world, meanings behind chemtrails, so selfless, and naturally intermixed with love for money and boyish playing and need to conquer and understand, all while Milady feels, she is an aura, he is a soldier.

—Ulenka Pachinko, Remilio artist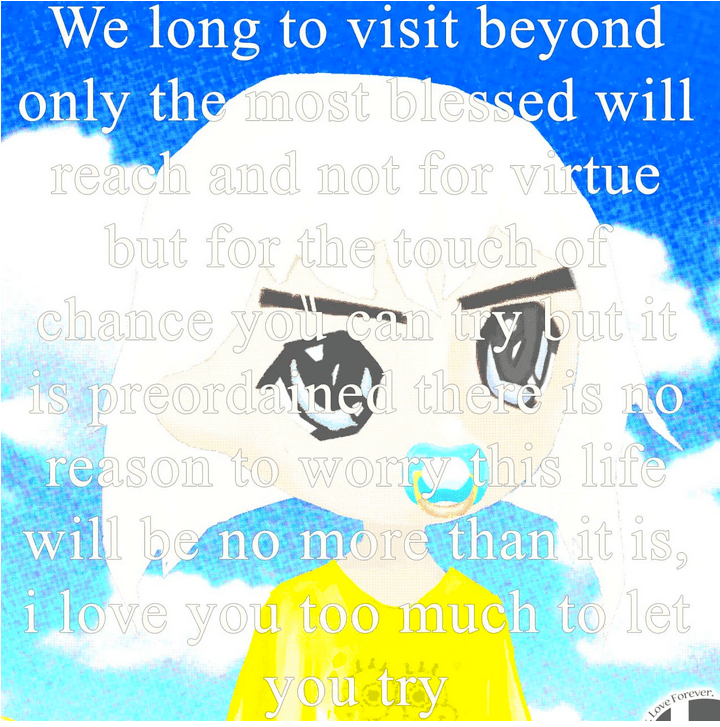 I think it's very fitting that it would be a girl to take on the role to draw the boys, an inverse of Sprite's drawing of Milady; giving the Remilio's the same touch of androgyny Milady retained but on the other side of the fence. They're Milady's little brother, not masculine but boyish, a rudimentary exploration of masculinity in horseplay: if Milady's essence colored the new net art's revolutionary irreverence with cute-aggression, Remilio colors the same with juvenile crudeness.
In some ways, it acts as a magnet for the boyish edginess and crudeness that doesn't fit in with Milady's pursuit of an aesthetic of spiritual purity; though it does maintain it at the heart, with a commitment to childish naivety. Remilio is more aggressive in its humor: it's more satirical and ironic, but in a way that still stands in stark contrast alongside Milady against the empty aesthetics of evasion of our more nihilistic contemporaries.
Remilio's Origin
A second "generation" of Milady was desired but we had no intention to develop a project until we really felt we had discovered a need for it. The ability to introduce a second "character", lining the Remilia roster like Sanrio or Disney might, despite the medium of algorithmic character design, was a challenge we had wanted to take on for some months; and to use what we learned in algorithmic design from building Milady and our contributions to other projects in the NFT space.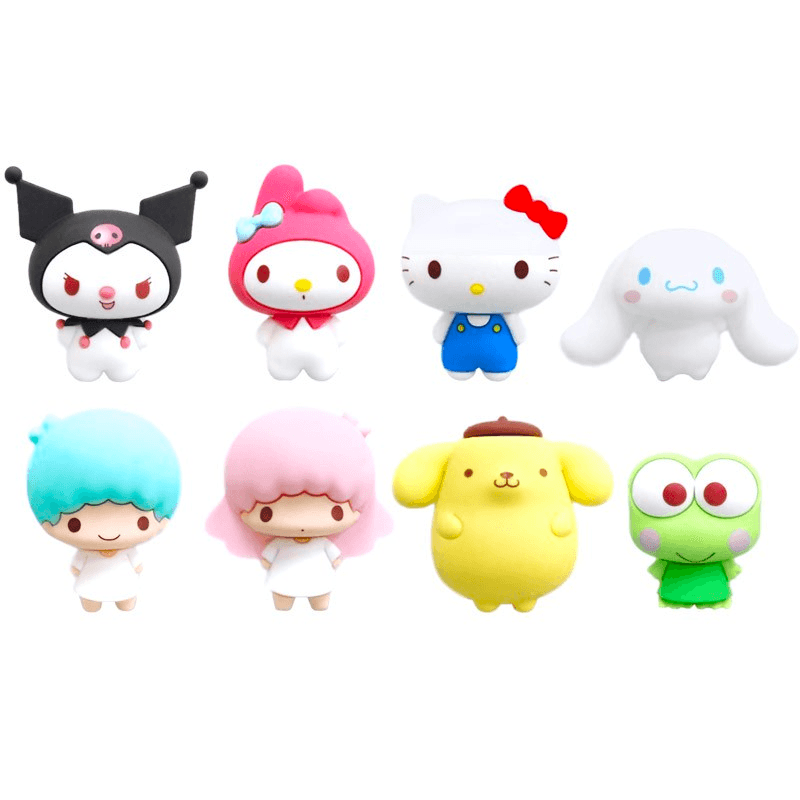 However the financial aspect is inseparable from a generative NFT collection; a new official PFP collection from Remilia is not the same as a community Milady derivative that exists as a subset accessory within the community, but requires the summoning of a fresh digital tribe, introducing values and culture to act as totems to attract, and define, previously disorganized individuals—as Milady did.
My own preference for the older Milady from Fodkorp was a sign of a need: Fodkorp's Milady provided a masculine character that we were looking for to compliment Milady. But aesthetics alone isn't enough new depth to justify a new collection.
What actually initiated the collection into serious development was being cancelled. The patent fraudulence of it, but also our unwillingness to buckle, led to a lot of outreach from previous bystanders. One unexpected one was Stonetoss, the right-wing political cartoonist popular among the channer alt right. Stonetoss had experienced his Flurks NFT collection get delisted from Opensea due to political censorship and built Scatter.art as a rival marketplace committed to freedom of speech. He let us know Milady would be welcome there in case we didn't beat the cancel.
We didn't need it, but the Stonetoss/Scatter angle provided a new angle of interest: the schizophrenic aesthetic tradition of reactionary right wing conspiracy. Qanon, Infowars, Gab, Trump train.
We thought it would be quite funny to do a collection capturing and lampooning this aesthetic mode, sharing the same platform as sincere right-wing collections, but extending them into the post-political, irreverent mindset Remilia champions (funnier still to laugh in the face of a cancel in web3).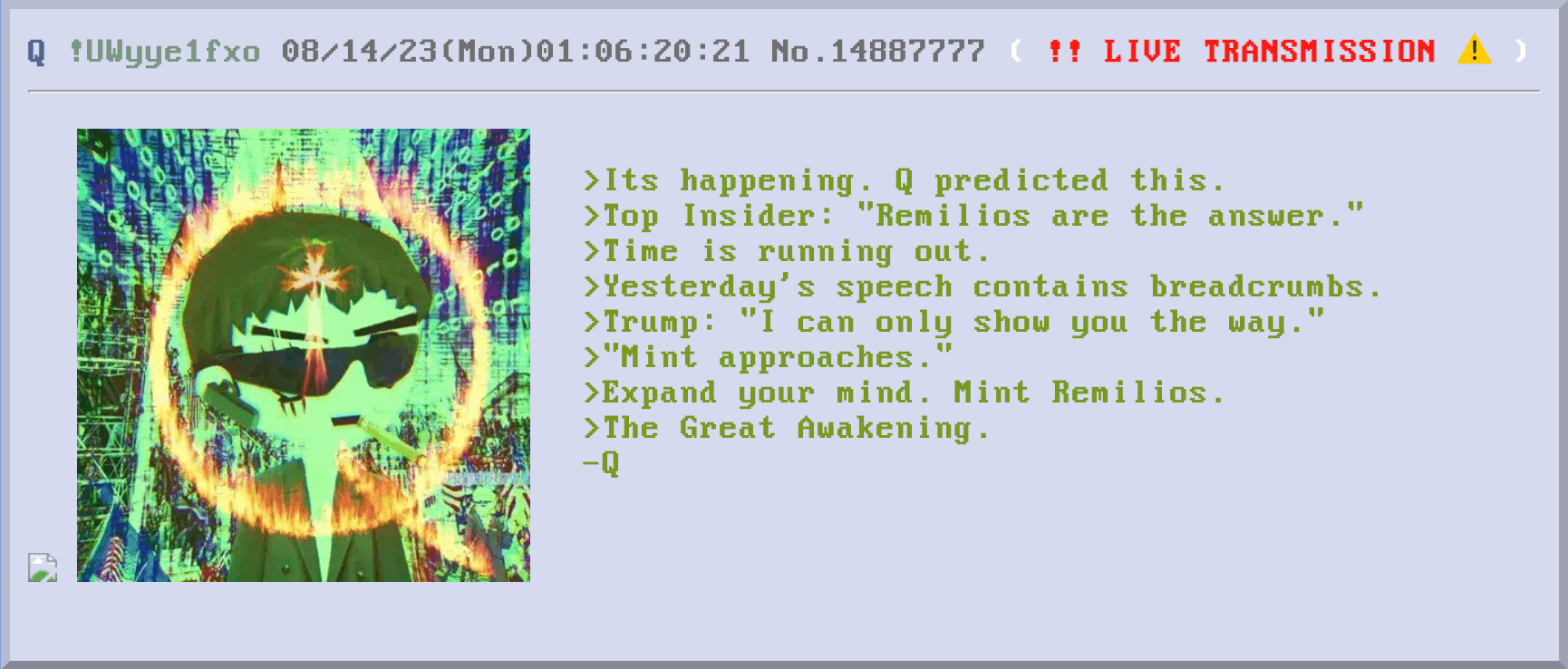 This alone still wasn't enough to create a complex worth developing into a new project. The final ingredient was an unproven feature being prototyped by Scatter's team: affiliate links. Essentially, referral based commissions: if someone buys from your link, you get a percentage of the profit.
Affiliates marketing is a standard model in ecommerce but infrastructure for it has not existed in crypto yet. This opened up a third avenue for humorous depth, allowing us to lean into satirizing the same field of "sales mindset" that we had in our earliest project, Yayo Corporation, with precedent in my past account satirizing PUA/'money twitter' accounts as Sonya Qafi. The exploration and deconstruction of robust, yet niche internet cultures has always been our interest, and this was one I've been interested in returning to for some time⁵.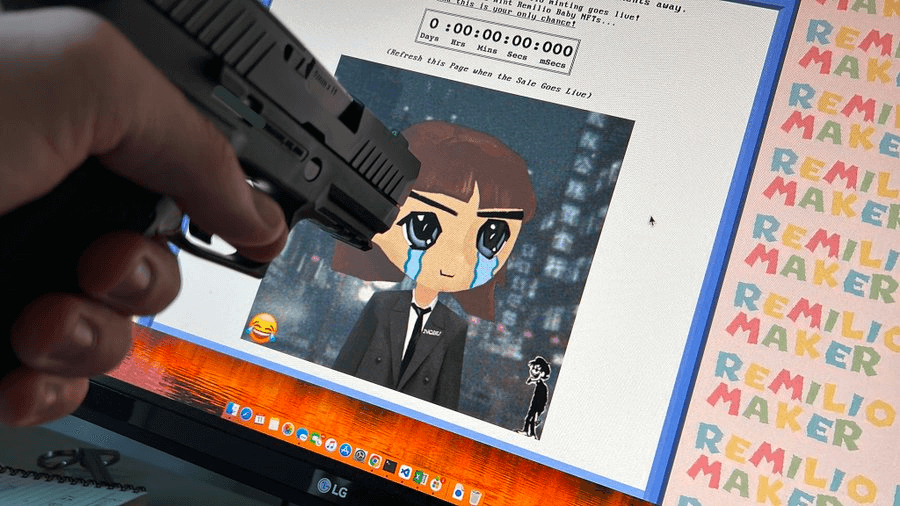 Introducing Remilio
Remilio Maker is Milady for boys. Remilio is based and retarded. Remilio is a 13 year old running Minecraft hustles. We channel these disparate inspirations into the same directed chaos that sets Milady apart from the monotony of NFT- and crypto-twitter as a community, the same lucid metairony that has always been the essence of Remilia's revolutionary posting as art practice.
Milady is unique in the generative NFT space for taking seriously the call for community generation with real cultural values, using the financial model to bootstrap a digital tribe ⁶. To introduce a new pfpNFT to the same Milady community, without creating an alternative set of values, would leave it simply as a derivative subset, an unneccessary selling back to our existing community. Remilio's were designed from the ground up with the formation of a distinct, but companion, alternative in mind, but like all things net culture, the best way to instill this culturally was a psyop.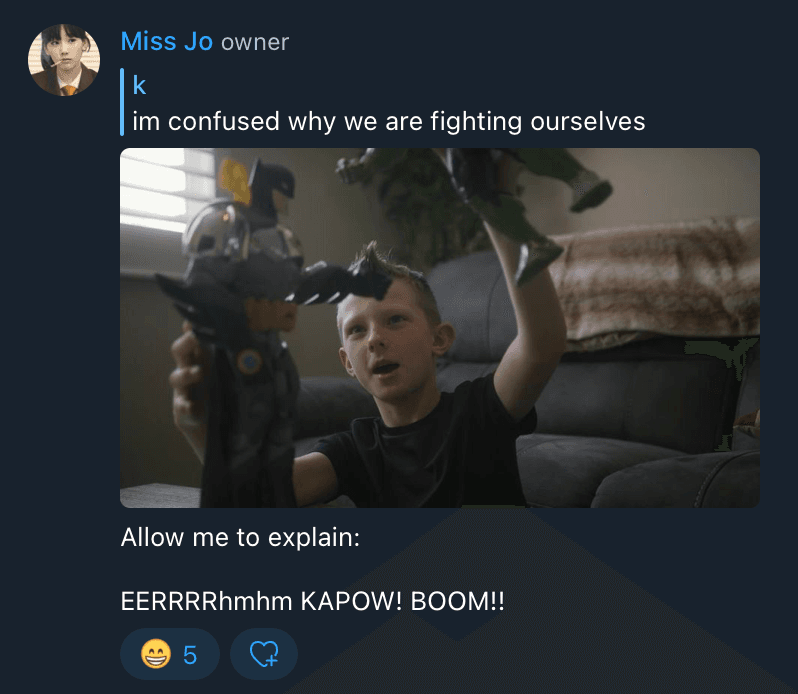 We took the inspiration of kayfabe from televised wrestling⁷, creating a performative rivalry of Remilio against Remilia, both as a honeytrap and lampoon of the anti-Remilia carpetbaggers that show up occassionally to leech off the Milady community; galvanizing the core community with playfighting⁸ that begun on the twitter timeline and ended in the Milady discord with colored roles to create a Stanford Prison Experiment style social experiment in tribal conditioning.
This was important not just to define the dichotomy between the "milady poster" and the "remilio poster", but also to ensure both groups were partly immunized against each other, giving the remilio's breathing room to develop their own tribal identity away from the existing Milady community. While they'll inevitably be reintegrated under the wider community under Remilia's net art umbrella, the project is only successful if it does so with both new blood and distinct new posting characteristics as a legitimate additional pillar in the character roster alongside Milady.
Asset Curation
Remilio features 526 unique assets, more than half as many as Milady Maker (236). While we maintain our sartorial interest, the focus is moved from Milady's neo-orientalist take on asian style tribes to an ironic assessment of zoomer fashion—primary designer references being Baliencaga, Gucci and Comme Des Garcons, with a focus on cheeky, meme-able collabs with Disney, Fortnite, etc.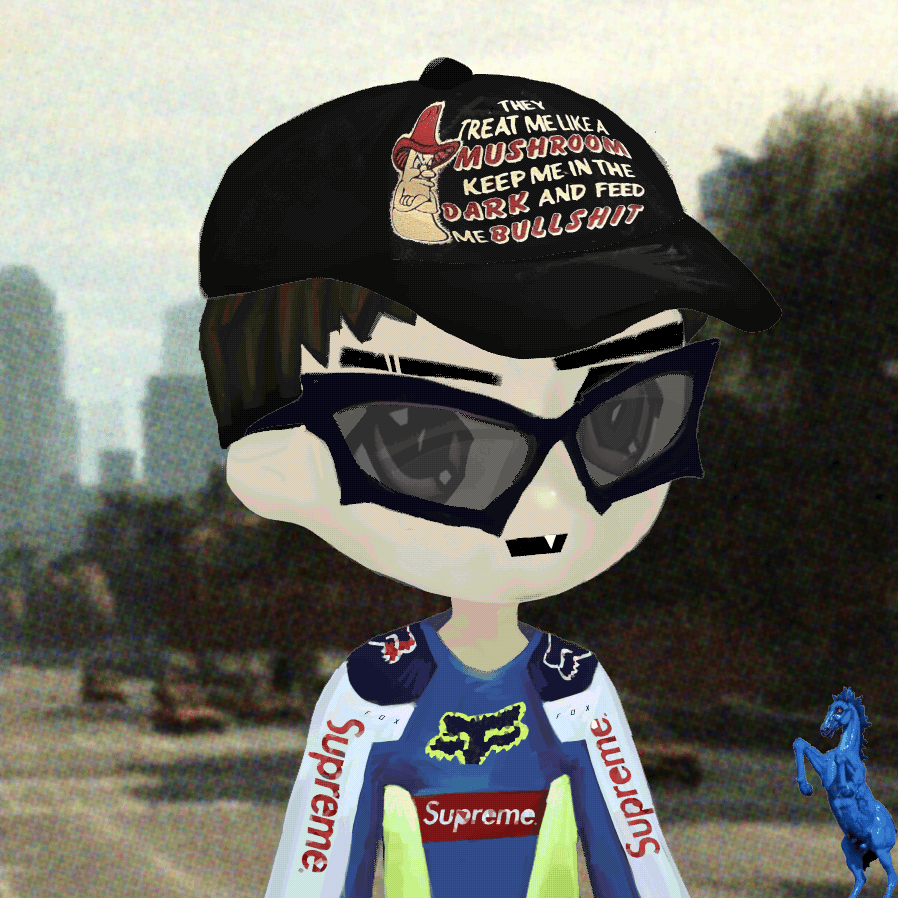 The other primary citation is zoomer videogame and internet culture, with natural references to Youtube streamers like Logan Paul, popular games from the mid 10s like Minecraft and CoD4, etc. befitting 'the 12 year old younger bro to Milady'.
This is paired in contrast to references common in the "alt right" of the mid 2010's, a subculture that now enjoys enough distance from relevancy to be ripe for satirical embrace—from Infowars (and Red Scare) merch to Chemtrails backgrounds and Illuminati Reptilian races.

Secondary elements include Youtube-minded Financial Aspirationalism: luxury watches, superhouse renders, etc.; "Swag"-oriented streetwear, in the mode of the Phillipines and Drake fans; lampooning NFT and crypto culture and aesthetics; and as a final touch, the art tourist and vacation home locales befitting a 'future trustie' tween's family vacations.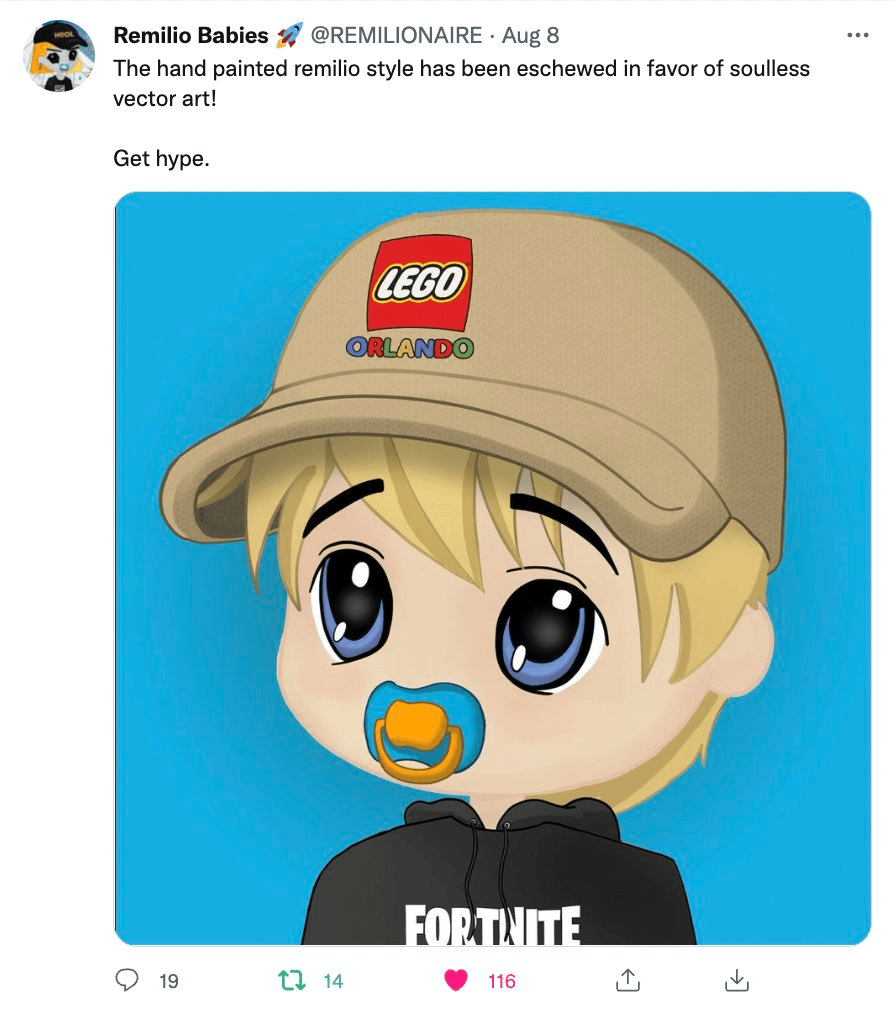 You can contrast these this with Milady's secondary incorporation of references to hyperpop artists, hikikomori culture and archival fashion beyond the stated foundation in Harajuku street style tribes.
Remilio Technical Specifications
On a technical level, Remilio expands on Milady with the introduction of Friends, Overlays, additional Races, and a more complex Grading system.
Friends
Friends are little mascots in the corner hidden beyond what is visible on a circular profile picture, to create a little surprise when opened in full resolution. There are over 100 allowing a wide breadth of humorous citation. They sit at different rarities but don't effect the swag score.
Races
Leaning into the boyishness of Remilio, an even more diverse variety of fantastical races are introduced to color the rarest of Remilios beyond Milady's Alien: Zombie, Oni, Ghost, and Reptilian (Lizard Overlord).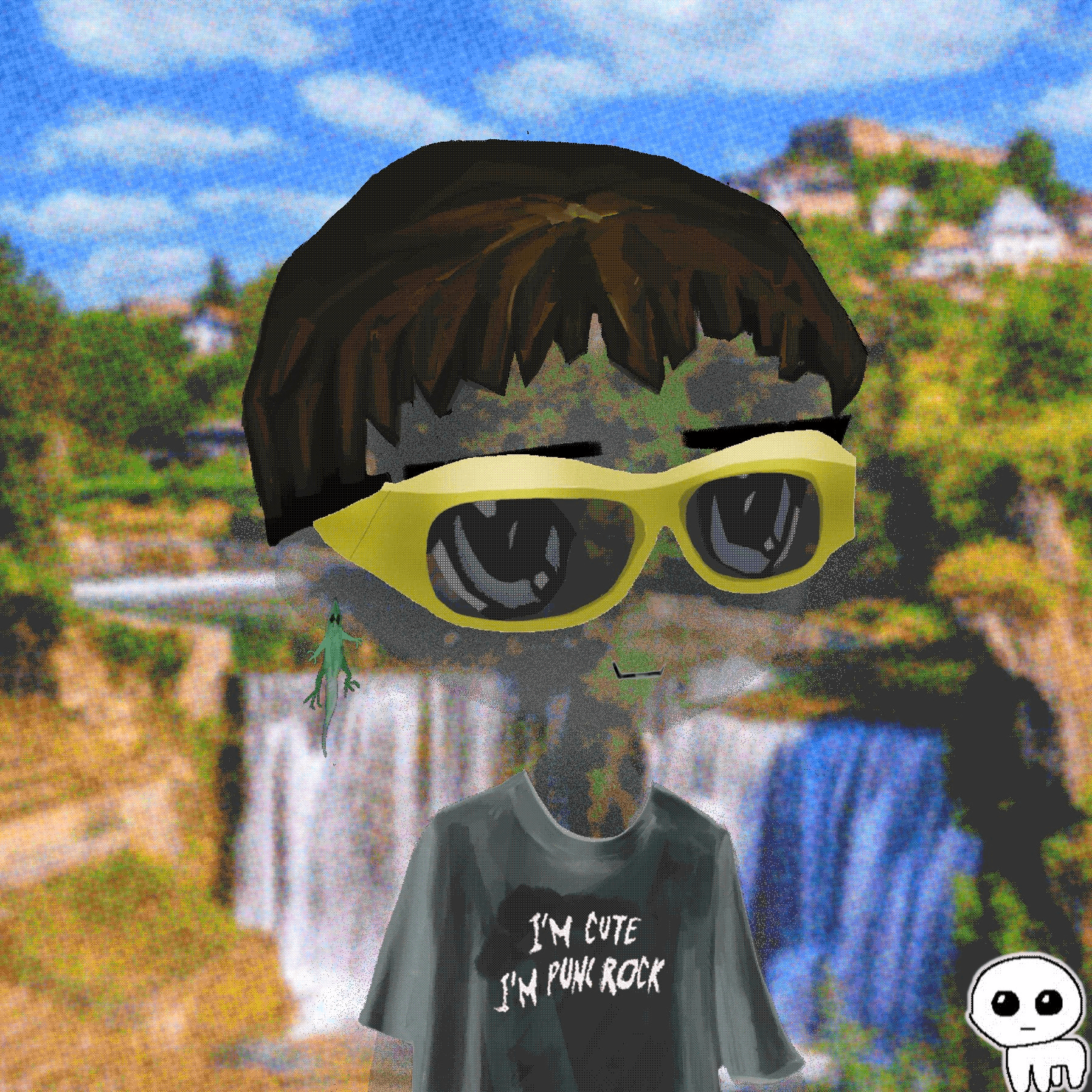 Overlays/Weapons
Overlays were inspired by the Milady community sharing memeable transparent images to add onto their pfps and modifying them with meme text captions. We introduced them onto the collection itself to embed the memetic nature into the NFT itself. My favorite is the RACISM one, lampooning an inevitable cancellation of Remilio.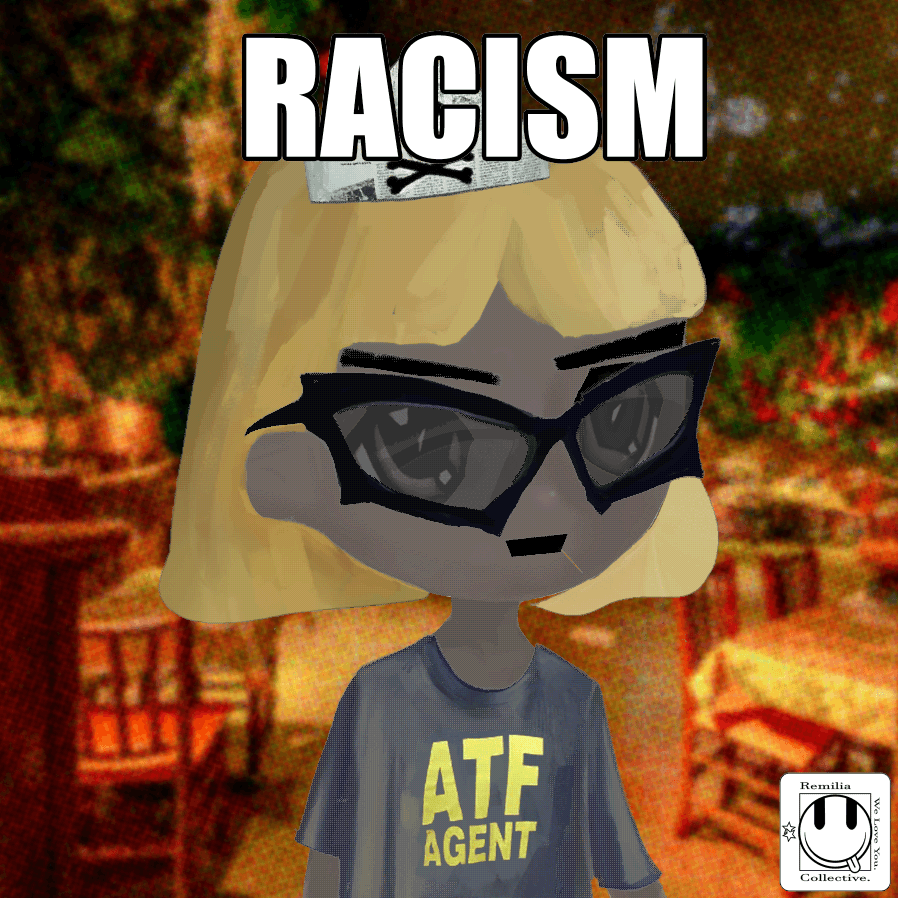 New Grading
Each Remilio is succintly graded by a proprietary mathematical formula created by a nobel prize winning professor and fleet of graduate students. The highly advanced multivariate weighted grading system generates a stamp that at a single glance heirarchizes an approximate value of your Remilio.
Milady introduces weighted "drip scores" to build a meta for evaluating the individual NFT's on aesthetic basis more than direct rarity.
We've refined the ranking formula to assess absolute rarity of a trait's appearance in the final collection.
The score is ranked with the following weights:
They are then categorized into absolute Swag Ranks:
1 - SSS - Top 100
2 - SS - Next 250
3 - S - Next 500
4 - A - Next 1500
5 - B - Next 3300
6 - C - Next 4000
6 - Jit - Last 350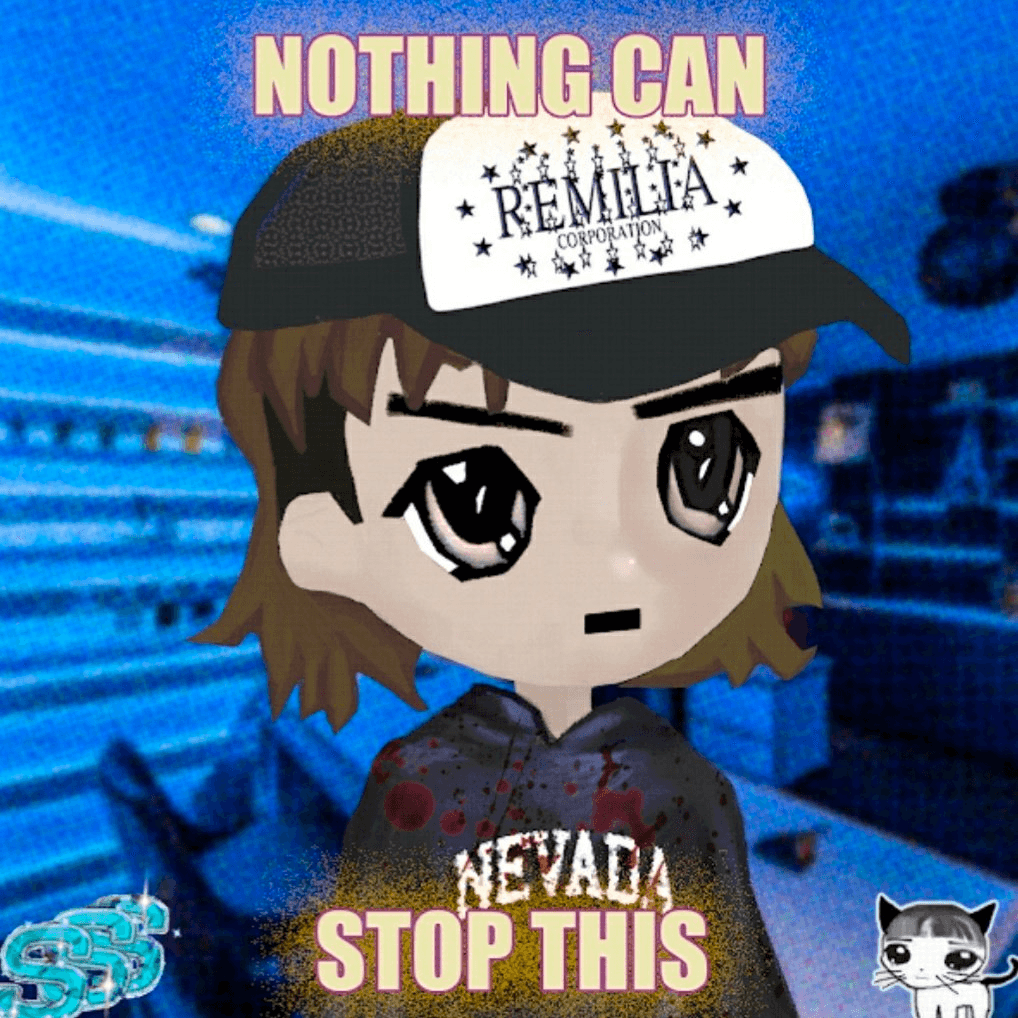 Only SSS/SS/S and Jit are visibly identified with markers on the Remilio. This is done to avoid letting rarity affect aesthetic preference-based selection on the floor as we lean into NFT floor liquidity protocols like NFTX. However, Jit is included as a visible marker to identify the absolute bottom rarity; similar to Milady's "normal" grade being identifiable for having no Grade applied, though differing in being very rare in comparison to the Normal milady.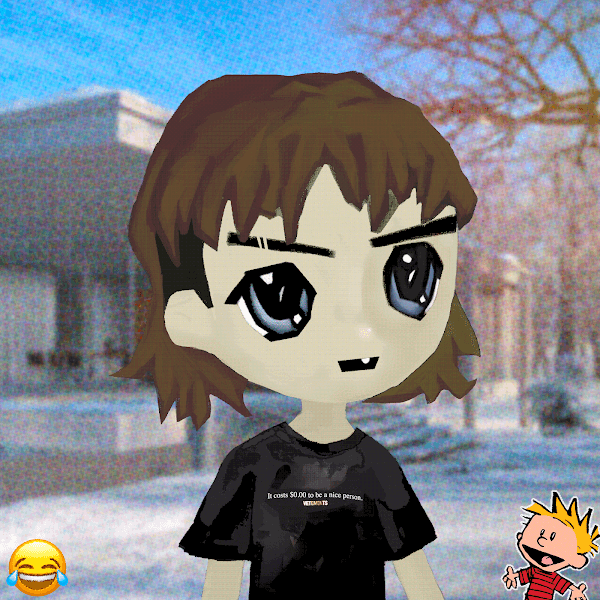 Addendum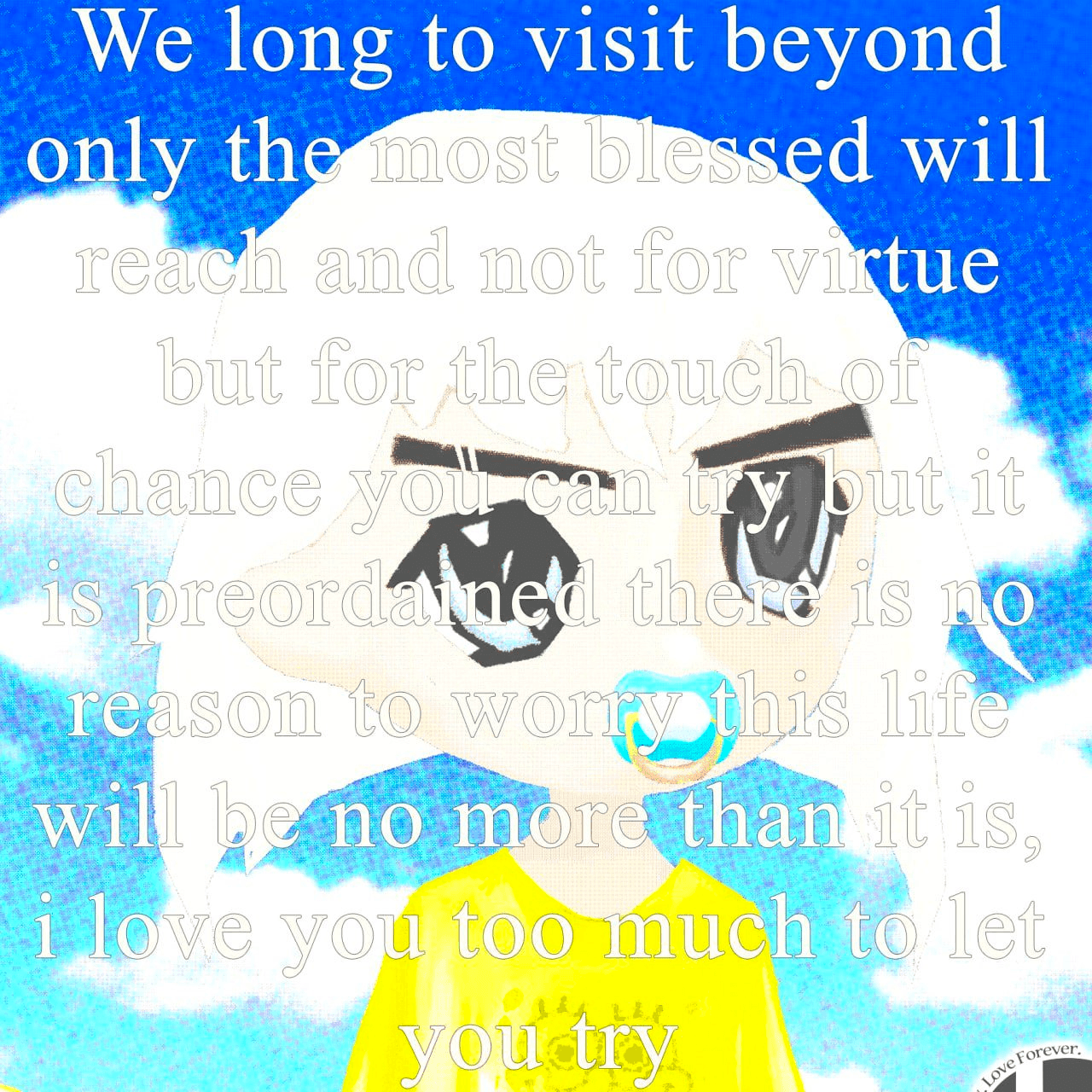 ---
The Milady design document was just something I wrote in my personal journal that was published as a side-thought; I was surprised to see the post receive attention in Milady's launch. It remained largely technical, not seriously go into detail on all complex of ideas that went into the project, but still was occasionally cited as the item that led virgin onlookers to taking Milady seriously (another frequent reference is the Minecraft Whitepaper, which makes more sense to me for its formidable size and autism, even if its coverage on NFT's is minimal). I believe this is simply because we demonstrated thoughtfulness at all, consideration in every design decision, something that very few practicing in this time of nihilistic evasion can say today with honesty.

"Before we ever initiated a pfpNFT, we already had a following of posters in our 'sphere', one that eventually did begin to use the proto-NFT Milady edits as a call-sign, among a host of other aesthetic singifiers. Our decision to create a complete generative collection was explicitly to bootstrap this to another level, making use of the incentive structures provided by financialization to extend the bounds of the Remilia sphere of influence." —"Can what's playing Milady make it to Level-2?", Charlotte Fang.

Honoraries from Milady/avant NFT derivatives, e.g. Pixelady Maker, taking that avatar as representative of C. Fang indicate its iconicness, despite not being a true Milady Maker NFT.

Unlike Milady Sonora Sprite and Fodkorp, Ulenka did not have a contribution to our debut Network Spirituality show; however she has been with Remilia Collective from the start. The group remains larger than has currently been identified to the public as we internally prefer pseudonymity and shared identities to maintain collaborative post-authorship; but the obfuscation has made Milady's audience vulnerable to exploitation both financially and culturally by outsider instigators, making it clear that, at least within the space of NFT's, clearer lines of provenance are required to protect our community.

"Multi-level marketing interests me." Yayo requires its own full write-up. Everything Remilia does is cyclical like a cone, like a spiral, returning to the same places but deeper and deeper each time. Nothing is worth exploring if it couldn't be explored in depth, deeper and deeper; Remilio's future plans are a return to what we began with Yayo—by no chance, the primary team behind Remilio is many of the same members behind Yayo, individuals who weren't primary in Milady's conception.

It surprises me that even now, a year since Milady's debut, no other pfpNFT collection has understood this and replicated this achievement.

In part inspired by the timeline playfight performed by Milady powerposters, Elizabeth777 and Clementine, documented in part in "Goodbye Again, Forever", Cryprittie.